BLUE TOFU'S Latest Single 'Hunger Tango' Vaults Into The Top Ten On The Billboard Hot Singles Sales Chart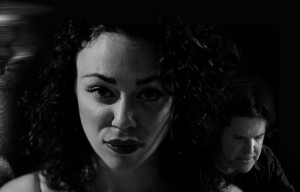 [1]
INDIE POP DUO BLUE TOFU'S LATEST SINGLE 'HUNGER TANGO' VAULTS INTO THE TOP TEN ON THE BILLBOARD HOT SINGLES SALES CHART, JUMPING TO #6 
Continuing to Pile on Big Numbers at Reverbnation and Adds on  Video Outlets, Blue Tofu has also Made Music Connection Magazine Influential "Hot 100 Indie List" for 2014
The seductive, visceral music of Blue Tofu (www.bluetofu.com [2]) may be hard to peg genre-wise, but the vibe that Tim Story – the Grammy nominated half of the enigmatic and soulful indie pop duo – calls "mutant pop music…sort of trip-hop with a smoky, David Lynch sound" is a big hit on the charts.
Blue Tofu's latest single "Hunger Tango [3]" has vaulted into the Top Ten on the Billboard Hot Singles Sales Chart, making an impressive leap from #17 to #6. The track also moved up from #47 to #41 on the FMQB AC chart.
Story and his partner, the haunting vocalist Andrea Mathews, have also made Music Connection's much-touted Hot 100 Indie List for 2014, to be revealed in the December issue of the magazine.
Blue Tofu's previous single from their new album Our Room reached #2 on the same chart and hit the Top 25 on the FMQB AC40 Radio chart.
The duo has also just released a buoyant, compelling sci-fi video for the "Hunger Tango" which features Mathews in colorful makeup aboard a spaceship populated with various intergalactic workers. The clip can be viewed at http://www.youtube.com/watch?v=YAYignR52V0
The clip for "Hunger Tango [4]" has lifted Blue Tango to extraordinary heights on ReverbNation. Their current ranking in their genre is: Locally #1, nationally #13 and globally #17.
The Hunger Tango video is also being played on numerous terrestrial and internet outlets, most recently being added to TheCoolTV in Lawrence, KS, Music Mix USA in Naples, FL and MSN.com. Other outlets include H2o Television in NYC and ArtistDirect.com.
In their July/August 2013 issue, The Absolute Sound – a popular magazine that reviews audiophile-oriented music and equipment– chose Blue Tofu's self-titled debut as one of the Top 40 Best Sounding Recordings of all time. This ranking puts Blue Tofu on a list with Miles Davis' Kind of Blue and The Beach Boys' Pet Sounds. 
For the latest music and news on Blue Tofu, visit www.bluetofu.com [2].