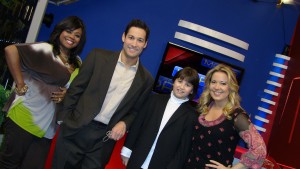 TEN-YEAR-OLD OLIVER RICHMAN DELIVERS
A TOUCHING PERFORMANCE ON
FOX 5'S MORE SHOW SINGING
HIS LATE GRANDFATHER'S HOLIDAY CLASSIC,
'ONE LITTLE CHRISTMAS TREE'
***
The Triple Threat Prodigy Is Set To Perform
At Stevie Wonder's 15th Annual
House Full Of Toys Benefit Concert On
Saturday, December 18 At L.A.'s Nokia Theatre
Ten-year-old singing sensation Oliver Richman performed for audiences and the hosts of Fox 5's MORE Show (KVVU-TV) in Las Vegas on December 8 with a special live performance of "One Little Christmas Tree." Click here to view Oliver's performance and here to view Part 2 of the segment.
Richman has been in the spotlight since the newly released remake of "One Little Christmas Tree" made its debut on YouTube and his website OliverRichman.com on November 15.
The music prodigy is set to perform "One Little Christmas Tree" at Stevie Wonder's 15th Annual House Full of Toys Benefit Concert on Saturday, December 18 at the Nokia Theatre in Los Angeles.
Wonder invited the young singer to perform at the star-studded benefit concert after hearing Oliver's recording of the classic holiday song, written by his grandfather and legendary Motown songwriter, Ron Miller. The song was originally recorded by Wonder in 1967 as well as the songwriter's classic, "Someday At Christmas" from Wonder's only Christmas album of the same title.
In addition, Lisa Dawn Miller, Ron Miller's daughter and Oliver's mother, will perform the poignant "If I Could," another much recorded standard from her father's catalog.
Miller wrote some of Wonder's biggest early hits such as "For Once In My Life," "Heaven Help Us All," "A Place In The Sun" and "Yester-me, Yester-you, Yesterday."
Richman also recently performed at local events including the National Anthem for the L.A. Derby Dolls Championship game on December 4. Click here to see Oliver's performance.
Earlier this fall, Oliver created major industry buzz with his release of "Defying Gravity," which has been viewed on YouTube nearly 40,000 times.
Oliver has been entertaining audiences for several years with his powerful voice, energetic stage presence and diverse dancing and acting strengths. His videos releases were designed as a professional intro/debut to his multitude of talents, just as the early YouTube clips of pop sensation Justin Bieber were instrumental to launching his career.
One of the songs Bieber recorded early on, in fact, was "Someday at Christmas," a classic Stevie Wonder hit, written by Oliver's maternal grandfather, legendary Motown songwriter Ron Miller. Bieber was also invited to the White House to sing it for President Obama and First Lady Michelle Obama.