Since launching LUCK Media & Marketing in 1999, music industry veteran Steve Levesque and his dynamic team of media specialists have been an instrumental force in the breaking of hundreds of emerging independent artists, revitalizing the careers of established performers and helping independent labels gain a foothold in the marketplace. Evolving into a well rounded full service "one stop shop" entertainment company dedicated to marketing, promotion, publicity and management consulting, LUCK has propelled artists "from the streets to the stadiums" in a wide variety of genres: pop, R&B, country, jazz, new age, adult contemporary, classic rock, alt rock, hardcore, rap/hip-hop, metal, Americana, folk, blues, electronic and more.
Under Levesque's guidance, LUCK Media & Marketing has developed dynamic and powerful creative strategies that have led it to become, for many of its clients, a virtual major label. Its areas of expertise include artist development, music marketing consulting, touring and live performance consulting, assisting with music placement in film, television and commercials and music business and accounting referrals. Over the years, LUCK's diverse clientele has included country superstars Billy Ray Cyrus, Sara Evans and Kenny Chesney (Steve's wife drove Miley to her audition for "Hannah Montana"!); R&B greats Chaka Khan, Rick James and James Brown; still going strong 80s pop icons Air Supply and Rick Springfield; and pop/rock legends Mick Fleetwood, New York Dolls, Julio Iglesias, Frankie Valli and Ritchie Blackmore.
With footholds and client bases firmly established in Los Angeles, Las Vegas, Nashville and New York, LUCK Media & Marketing's roster has included renowned music themed restaurants (Rainbow Bar & Grill, The Derby, B.B. King's Blues Club), Musicians Institute and general pop culture figures like celebrity lawyer Debra Opri.
Levesque's unique, multi-faceted career in the music business stretches back nearly 30 years, when he began working at a Wherehouse Record store in his hometown of Fullerton after he received his business management degree from Fullerton College. When the Orange County, California punk scene was exploding in the early 80s with bands like Social Distortion and The Adolescents, he was a leading force in the genre as the manager of Agent Orange, the innovative high energy band that featured his brother James on bass.
Agent Orange's melodic, guitar driven surf punk with vocal harmonies vibe is widely credited as influencing later groups like Nirvana, Bad Religion, The Offspring and Green Day. Making a powerful impact behind the scenes, Levesque helped Agent Orange secure significant radio airplay, a record deal, U.S. tours and the first ever band endorsement deal with a skateboard company in the history of punk with Vision Sports.
At one point during the nine years he worked with Agent Orange, Levesque branched out and became the Head of Marketing for Synthecide Records, whose artists included Stacey Q and Red Flag. When Agent Orange broke up in the late 80s, Levesque became Head of Publicity for Enigma Records, an affiliate of Capitol Records; at Enigma and its jazz imprint Intima, he worked with a diverse roster of artists, including Mojo Nixon, Poison, Smithereens, Dead Milkmen, The Cramps, Devo, The Dickies, David Cassidy, Richard Elliot and Maynard Ferguson.
In the early 90s, impressed with Levesque's talents for publicity, marketing and business development, legendary PR man Lee Solters tapped him to work with his high end clients that included Michael Jackson, Moody Blues, Bush, Lit, Joe Walsh, Lollapalooza with Metallica and The Ramones, C&C Music Factory, Guitar Center and NARAS (The Grammys). Becoming a true rainmaker for the company, Levesque was quickly promoted to Vice President of Lee Solters Public Relations. In that capacity, among other successes, he brokered a multi-million dollar deal between Mattel Toys and MC Hammer during the hip-hop artist's heyday.
Levesque's desire to expand beyond publicity and fashion a more diverse, marketing driven role in the industry led him to form LUCK Media & Marketing with some of his former Solters colleagues and others in the late 90's. Bringing his diverse knowledge and extensive contacts in the realms of radio, retail, the live performance realm and online promotion, Levesque quickly established Luck as a top independent media and marketing company that attracted household name artists as well as talented newcomers.
"Although the industry has changed as independent labels and artists have taken the focus away from the major labels, our approach has not," Levesque says. "We have always taken innovative and grass roots approaches to breaking and establishing indie artists and taking established acts to the next level in their careers. Whereas in the past clients would come to a company just for publicity, now they want the whole pie, so to speak—and they know Luck Media and Marketing can work with them on so many levels. Rather than tackle only specific aspects of their careers, we focus on a broader experience and larger vision for them, roll up our sleeves, work harder and are constantly finding creative new ways to take them where their talents deserve. Luck Media and Marketing's dedication to diversity and teamwork has resulted in hundreds of satisfied clients.
"I called my company LUCK Media," he adds, "because I believe that in the music industry, luck is the convergence of opportunity and preparedness, and we take advantage of both elements on behalf of our artists. The harder I work, the luckier I get."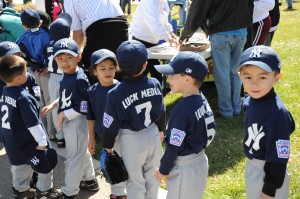 Luck Media & Marketing is sponsoring the Yankees T-Ball Little League team in the Las Vegas Spring Valley division. The "Bad News Bears" have nothing on this group of high-spirited 5 year olds. That is Leo Levesque off to the far right in the photo.