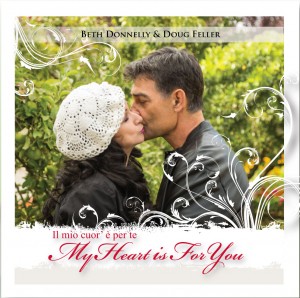 TRULY SINGING FROM THEIR HEARTSPACE,  THE OREGON-BASED HUSBAND AND WIFE BARITONE/SOPRANO  DUO SHARE ROMANTIC SONGS INSPIRED BY  THEIR EURO TOUR TRAVELS ON THEIR LATEST  FULL-LENGTH ALBUM 'MY HEART IS FOR YOU'
PORTLAND, ORE. – Celebrating a dynamic 37 years of marriage marked by passion, entrepreneurial courage and magical musical collaborations, Beth Donnelly and Doug Feller are interested in much more than simply beautifying the world with their soulful and romantic baritone/soprano power.
Through their multi-faceted company Jeremiah Productions (www.jeremiahproductions.com), the Portland, Ore.-based husband-and-wife duo – acclaimed opera singers who also perform jazz, Broadway and gospel – have dedicated their lives and careers to transforming both minds and voices through concerts, workshops, private training, classes and online media.
Since the release of their critically-acclaimed debut album That's Amore, Beth and Doug have performed various times in Europe, making a return visit to Italy, headlining shows in France and last year regaling Ireland for the first time. When they decided to record their new album My Heart Is For You, they knew exactly where to look for pieces that would perfectly complement the heartfelt title-track they penned with their adult son Jeremiah. Rather than start with a specific concept, they chose popular and well known operatic and classical pieces that they heard during their European travels.
During the upcoming musical season in Portland, they will take the stage at Tabor Space, a premiere community gathering spot. On September 28, they will perform their high-energy eclectic show "Gershwin, Gospel and Groove" featuring their 18-voice local concert choir The Glory Singers.
As Doug and Beth continue their thriving teaching practice (teaching classical, musical theatre, pop and jazz), they recently created a new "vodcast" on their website called "5 Minute Master Class – for Singers & Speakers." Beth and Doug will once again host in their home studio a live workshop/master class called "Singing From Your Heartspace."
Beth has extended her educational activities to a unique weekly blog talk radio show, "I AM U Radio" (www.blogtalkradio.com/i-am-u-radio),  co-hosted with Dagny Grant and airing every Sunday night at 7 p.m. PST.
Beth, Doug and Dagny are three of the six partners in a powerful new educational business called the I AM Group University, which they feel will revolutionize the way people get their information about transformation.
Contact: Steve Levesque, 818-232-4175