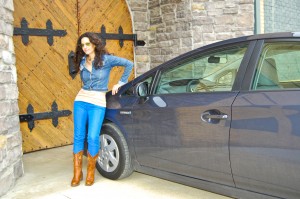 PHOTO CAPTION: Rising country singer Marthia Sides with her 2010 Toyota Prius.
PHOTO CREDIT: Ken Shelton
MARTHIA SIDES
COUNTRY SINGER-SONGWRITER
MARTHIA SIDES APPLIES THE BRAKES
TO HER RELATIONSHIP WITH THE TROUBLED
TOYOTA CORPORATION!
After Marthia Sides gets through with her temporary boycott of the Toyota Corporation, there's going to be "Some Assembly Required"—the name of her new radio single—to repair the rift in her longtime love for their gas-efficient and usually reliable vehicles. 
For now though, along with a lot of other people around the world with the same safety concerns, she's putting the relationship in reverse. 
In response to the auto company's recent recall of over nine million cars worldwide due to accelerator pedal and pedal entrapment problems, the multi-talented country singer/songwriter recently edited out a line with a Toyota reference in "Some Assembly Required." Ironically, she originally sang "I sure wish I had a new Toyota" as a reference to problem-free assembly, in her playful song about trying but failing to find the elusive perfect man.
The version being shipped to country radio is now "Toyota free"—but still irresistible!
Sides also pulled her own 2010 Prius off the road because she was experiencing acceleration issues when she hit a bump; she had it fixed but is still not sure if the problem has been completely resolved. She plans to visit the rental car lots before her upcoming radio promotion tour in support of the March 15th release of "Some Assembly Required."
The success of her 2006 debut Born Again In The Country, its first single "Picture Perfect Girl" and subsequent tours of the Midwest and Southwest led to her working with multi-platinum producer Kevin Beamish, who helmed REO Speedwagon's classic Hi Infidelity album and who has scored over forty five #1 and Top 5 singles by top country artists like Kenny Chesney, Brooks & Dunn, Clint Black and Martina McBride.
Beamish helmed Sides' prophetically titled follow-up collection I Got Faith in addition to her current single "Some Assembly Required."
The Virginia-born performer had a successful career off Broadway and in TV and Film before launching her music career after a chance encounter with songwriter Doug James while shooting the CMT Reality Show "Popularity Contest."
Sides contributes her time and talent to several organizations serving the needs of those less fortunate. These include Operation Smile (for children with deformities) and Virginia Stop Modern Slavery (an anti-human trafficking organization).