Contact: Steve Levesque, Chrissy Sutphin
LUCK Media & Marketing, Inc., 818-232-4175
info@luckmedia.com, www.luckmedia.com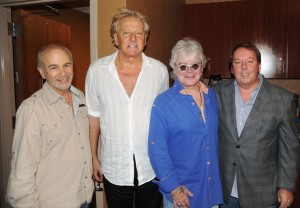 Photo Caption (L-R): Air Supply's Manager Barry Siegel; Graham Russell and Russell Hitchcock of Air Supply; APA President Jim Gosnell at The Orleans Hotel & Casino in Las Vegas August 31. Photo Credit: LUCK Media & Marketing, Inc.
LEGENDARY POP DUO AIR SUPPLY GETS SURPRISE VISIT FROM LONGTIME AGENT AND PRESIDENT OF APA, JIM GOSNELL, DURING THEIR LABOR DAY PERFORMANCE AT THE ORLEANS HOTEL & CASINO
LAS VEGAS – The hitmaking pop duo Air Supply's longtime agent, Jim Gosnell, President of APA, surprised the band with a visit backstage on the occasion of celebrating 15 years of packed shows at The Orleans Hotel & Casino where they perform each Memorial Day and Labor Day holidays. Russell Hitchcock and Graham Russell will celebrate Air Supply's 40th anniversary next year.
Air Supply has been a pop and Adult Contemporary chart phenomenon for decades, but their latest dance single "Desert Sea Sky" extends their Billboard chart success to an incredible five decades. Written by Graham Russell and remixed by The Wideboys from Britain, "Desert Sea Sky" hit the Billboard Hot Dance Club Play chart earlier this year.
The music icons continue to play more than 150 shows a year worldwide, and were the first Western group to tour China, Taiwan, and countless other countries that before would not allow pop music across their borders.
Visit www.airsupplymusic.com for tour dates and more information.
###