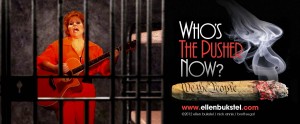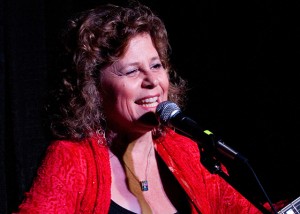 MIXED BAG OF MARIJUANA-RELATED ELECTION NIGHT RESULTS FUELS THE HOPE OF THE FED UP, FOLKIN' HOT, PRO-POT, FLORIDA-BASED SINGER-SONGWRITER, WHO TAKES ON GOVERNMENT HYPOCRISY AND BIG PHARMA IN HER INCENDIARY SONG AND VIDEO 'WHO'S THE PUSHER NOW?'
Disappointed about the Narrow Loss of Florida's Medical Marijuana Amendment But Buoyed By Legalization Victories in Oregon, Alaska and D.C., the Longtime Advocate Vows to Continue Standing Up to Bad Anti-Pot Propaganda
SOUTHWEST RANCHES, FLA. – Excited by the overwhelming response to her biting and incisive (but delightfully infectious) song and provocative music video "Who's The Pusher Now?", fired up, fed up and folkin' hot singer-songwriter Ellen Bukstel (www.ellenbukstel.com) was anticipating a big victory on Election Night for her home state's Amendment 2, the Florida Right to Medical Marijuana Initiative.
While disappointed by its narrow defeat – as a Constitutional Amendment, it received 58 percent approval but needed 60 percent to pass, she remains determined to keep fighting not just for the use of medical marijuana, but for eventual full legalization. She was inspired by legalization victories in Alaska, Oregon and Washington, D.C., which joined Colorado and Washington State in legalizing recreational pot possession and use. Twenty three states already permit medical marijuana use.
"Like most people who are as passionate as I am about the issue and advocated tirelessly for the passage of Amendment 2, I was very disappointed in the results," says Ellen, whose incendiary song was first nominated for a 2013 Hollywood Music In Media Award (HMMA) in the Music Genre category and whose video was nominated for a 2014 HMMA in the Music in Visual Media. "But the issue's importance on so many levels means that we cannot be deterred from eventually making this change and we've got to keep moving forward until that happens."
Once Ellen moved beyond the initial frustration and anger, she began to see the defeat as motivation to continue to educate and enlighten. "We have to keep working to overcome decades of bad information and stigma associated with marijuana," she adds. "It's our responsibility to continue the debate with enthusiasm and to keep the information and education revolution going. Telling the truth about it is the only way to help people understand the health benefits it will have for people in need of alternative medical care and why it is important to legalize it. I'm not an expert, but I am a passionate voice for the cause and take my platform as an artist and performer seriously. I have always believed that information is freedom. Truth is freedom. Choice is freedom."
Despite the setback on Election Night, Ellen was encouraged by Florida Gov. Rick Scott's signing in June 2014 of a bill that legalizes the use of a non-euphoric strain of marijuana to treat conditions such as epilepsy, Lou Gehrig's disease and cancer. He signed Senate Bill 1030, which approves medication, nicknamed Charlotte's Web, and SB 1700, which protects the identities of the patients who use it.
"I believe the significant wave of change happening in our country is due to the fact that ordinary people are finally speaking out against injustice and bad laws," says Ellen. "We are finally seeing what freedom of speech looks like and the positive effect it can have. On this particular issue we have kept ourselves 'in the closet', silent for decades due to fear of our government. Too many people have forgotten that they represent and work for us – and not the other way around. 'We the people' do have a voice and we do have a right to speak out and when we band together we can be powerful."
In addition to pot legalization, Ellen addresses a secondary issue in "Who's The Pusher Now?" She powerfully and candidly expresses her disdain at the hypocrisy of our government incarcerating people for fallacious marijuana laws while blithely providing legal protection for deadly pharmaceutical drugs that kill hundreds of thousands of people every year.
"So many of us are concerned and we need to get more people to wake up and speak out not only for the legalization of marijuana but also the abolishment of private prisons that has created a modern day slavery. Mandatory drug sentencing unjustly puts people away for obscene lengths of time. Until we legalize marijuana and change our outlook and get people help from addictive drugs instead of imprisoning them, our government will continue to incarcerate innocent and good people."
In the many years that Ellen has been a pro-pot advocate, she has gratefully noticed that many elderly people who grew up before the "hippie" era are also discovering the positive aspects of medical cannabis in treating their ailments and illnesses. In the mid-2000s, she wrote a clever song about menopause that resonated with baby boomers and senior citizens. "Is It Hot In Here, Or Is It Me?" was included on Dr. Demento's Basement Tapes #12 (cementing Bukstel's stature as a musical satirist par excellence) as well as unique 2006 collection called Mamapalooza: Moms Who Rock.
"I'm so delighted to see that it's not just an issue that is resonating with younger people, but one that affects those of all ages," says Ellen. "It is important to remember that although Amendment 2 did not pass, we can have a voice. We can raise our awareness and we have the right and freedom to keep speaking out against this injustice. Think about what it must be like in a prison cell and having your life and family taken away from you for fallacious and unjust laws and perpetrated purely by propaganda. I want people to get educated and get mad that this is happening in our country."