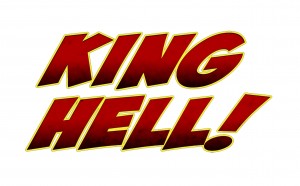 IN ROCK'S DARKEST HOUR, WHO WILL STAND AGAINST THE AXIS OF EMO?
ONLY KING HELL!
THE EPIC DEFENDERS OF METAL AND FUNK!
Possessed of a 666 decibel voice, Samwell is heavy metal's champion superhero. He had a pacemaker implanted—just so he could set it to 11. "Purveyors of feckless twee-rock be warned: I will totally smite you with my two horned anvil, strip you of your fathers' cardigans, and burn Dio's name into the lenses of your oversized nerd glasses."
The only escaped clone of Dr. Funkenstein, Zigabot rumbles the junk in yo trunk with the elephantine bass tones booming from his 69 inch woofer. He takes parties to new levels with his roof raising bionic afro, and hypnotizes ladies with his solid diamond platform shoes. "People, I will turn this mother out, as I have turned out all your mothers." 
Spitting hot lead and smokin' vocal melodies, Doc Thompson is music's gangster avenger, punishing crimes against rock. No fake angst or blatant example of bogus bed-head goes unanswered by his Tommy gun, 'Wendy O.' "I aim to put a bullet through any album with more than 50% songs about girlfriends."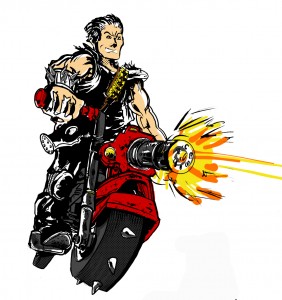 Mötherfökker (AKA Möfö) – Guitar
A vigilante from a post-apocalyptic future ruled by a cyborg Justin Bieber, Möfö has traveled back in time to battle the insidious forces of Radio Disney. "Die Zukunft der drecksack Justin Bieber und Mickey Maüss Klub ist invertiert. Dröhnen Schwein!" (Editor's note: Möfö speaks only Future German. No translation is possible as this language has yet to exist.)
Hitting the skins with a pair of nunchucks, Shille-Lee is Earth's foremost (well, only) master of Irish Kung-Fu, which consists mostly of drinking Guinness and meditation. He would contribute a quote but A) he doesn't speak, and B) even if he could, he's too busy playing drum solos upside the heads of wave after wave of attacking ninjas.
Legendary "gonzo journalist" Hunter S. Thompson made up his own adjective to describe the ultimate of something: "It was the king hell of all parties!" No doubt, the late great author of "Fear and Loathing In Las Vegas" would feel the same sense of visceral energy if he'd had the chance to check out King Hell!, the furious and funky, intensely tongue-in-cheek, indie powerhouse named after his turn of phrase.
Get a taste of King Hell's comic-book-come-to-life stage show in the video for the track "Brooklyn", shot at the Gramercy Theater in New York City. View the video here!