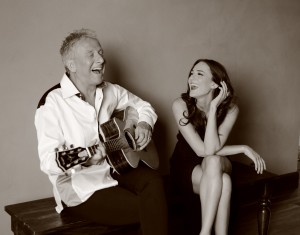 OF EDEN, THE NEW ACOUSTIC POP FOLK DUO FEATURING
AIR SUPPLY'S GRAHAM RUSSELL AND SINGER-SONGWRITER
KATIE MCGHIE, PERFORM SONGS FROM THEIR 2013 DEBUT
ALBUM 'FEEL' NOVEMBER 20
AT REGATTA BAR IN CAMBRIDGE, MASS.
A Reading For Russell and McGhie's New Musical "Devil & The Deep,"
Is Set for November 10-11 at The Abingdon Theatre in NYC
CAMBRIDGE, MASS. – While Graham Russell continues touring the U.S. and around world as half of the '80s hit-making duo Air Supply (www.airsupplymusic.com), he has also launched an exciting acoustic pop folk collaboration with singer-songwriter Katie McGhie.
Collectively known as Of Eden, the duo is set to perform at Regatta Bar in Cambridge, Mass., November 20 at 8 p.m. They will be performing songs from their 2013 full-length album Feel. Tickets can be purchased here: http://www.getshowtix.com/regattabar/moreinfo.cgi?id=3291
Prior to that show, Theatre East will present a reading of "Devil & The Deep," a new musical featuring music and lyrics by Russell and McGhie, with book and additional lyrics by Melissa Bell.
The show is a re-imagining of Robert Louis Stevenson's classic "Treasure Island." The reading takes place Monday, November 10 at 7 p.m. and Tuesday, November 11 at 1 p.m. at the Abington Theatre in NYC, located at 312 W. 36th Street, between 8th and 9th Avenues.
The two met at an awards gala in 2012 and their passion for music instantly sparked a conversation. A few weeks later, McGhie met up with Russell to lend her voice to a new project he was working on. She sang background vocals on two Russell-produced Air Supply songs, "Want You" and "Desert Sea Sky." After their first day working together, they were asked to do a show at a local pub. Their very first performance together was a hit and quickly evolved into Of Eden.
Drawing on Russell's decades-long history as a songwriter (including Air Supply classics "Lost in Love," "All Out of Love" and "The One that You Love") and McGhie's background as a singer (including one self-titled EP), the two have created a new sound using only their voices and a guitar.
This past year, in addition to writing for "Devil & The Deep," Of Eden wrote songs for various movies. Russell and McGhie are currently working on their second album and planning more tour dates.
Contact: Chrissy Sutphin, LUCK Media 818-231-4175