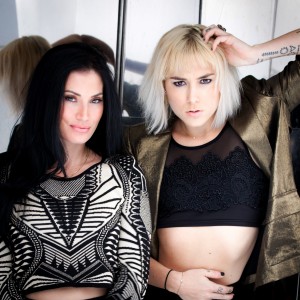 POWERHOUSE FEMALE DANCE/POP DUO STASH
PARTNERS WITH DANCEON NETWORK TO LAUNCH A SERIES OF EXPERTLY CHOREOGRAPHED VIDEOS BY KOREAN DANCE GROUP WAVEYA, JANELLE GINESTRA AND TRICIA MIRANDA
STASH Launches The Official High-Energy Party Video For Their HMMA Nominated Party Anthem
"Red Cup! Pinky Up"
LOS ANGELES - Fast-rising powerhouse female dance/pop duo STASH(www.danceSTASH.com) has partnered with DanceOn Network (www.YouTube.com/DanceOn) and three top network influencers to roll out a series of videos choreographed to music by STASH.
Empowering musicians and artists in the digital era, DanceOn was co-founded by CEO Amanda Taylor, Madonna, Guy Oseary, Machinima and chairmanAllen DeBevoise. DanceOn is an entertainment focused digital media company connecting music and pop culture through the universal language of dance. The network's more than three billion views, 20 million subscribers and 42 million fans across platforms showcase the influence of dance around music's viral moments.
"Pop music and dance are intrinsically connected," said Erica Forster, VP of Music Partnerships at DanceOn. "Waveya, Janelle and Tricia's original dance videos will activate fans - driving viewership and engagement around STASH."
The first (www.youtube.com/watch?v=nukf_kgyKTI) of three videos to roll out over the next few months is a clip for STASH's breakout hit "Tear Me Down"www.youtube.com/watch?v=IwUmMd9NdhM performed by top Korean Dance Group Waveya.
Led by sister choreographers Ari and MiU, Waveya is considered YouTube's #1 Korean dance team and winner of the #1 UGC Channel from YouTube Korea in 2012, 2013 and 2014. Says Waveya, "We really loved STASH's "Tear Me Down" – it's a fun, uplifting song, so we had a blast choreographing an original dance to this track!"
Forthcoming videos to launch on DanceOn.com will involve world-renowned choreographers Tricia Miranda ("Strip Me Bare") and Janelle Ginestra ("Red Cup! Pinky Up").
Miranda has choreographed superstars like Taylor Swift, Beyoncé, Will I Am,LL Cool J, Eve, Busta Rhymes, Snoop Dogg, 50 Cent and Jamie Foxx to name a few.
Ginestra has appeared on Glee, The X-Factor, the film "Fired Up," P!NK'sTruth About Love Tour and was recently seen dancing alongside rapperNikki Minaj in the popular "Anaconda" video.
STASH has also just unleashed an explosive new video for their Hollywood Music in Media Award (HMMA) nominated party manifesto "Red Cup! Pinky Up."
The dynamic, freewheeling clip (https://youtu.be/qj9BCubJXaI), showing L.A.-based DJ/rapper/songwriter Steph Prost and classically-trained singerAmanda Maze in full-on life of the party mode, was directed by Jose Omar, an upstart director who has toured as a dancer with Britney Spears and Jennifer Lopez, and worked with everyone from Janet Jackson to Christina Aguilera.
STASH's music is now available on Beatport.com visit: https://pro.beatport.com/artist/stash-usa/478363.
STASH recently appeared on "Valley View Live" on the ABC affiliate KTNV-TV in Las Vegas on April 24 to promote their performance at the annualDinah Shore Weekend event. The clip can viewed here:https://www.youtube.com/watch?v=Y7TEdo-jz3U
A remix of the duo's single "Strip Me Bare" by British-born wunderkindCutmore (Beyonce, Justin Timberlake, Rihanna, Kelly Clarkson) is being promoted to Billboard Dance Club DJs and Radio across the U.S. by Brad LeBeau and his NYC-based company PRO MOTION.
STASH performed their hot debut single "Tear Me Down" during an exclusive appearance March 26 on the "Daytime TV Show," http://www.wfla.com/story/28624233/daytime-stash-performs-tear-me-down, a one-hour syndicated talk show that reaches 130 U.S. markets, runs on 191 TV stations in over 140 cities and DISH TV, and reaches an audience of 80 million.
For the latest news and shows, visit www.danceSTASH.com.